Please find below further information on my current treatment packages:
Signature Pregnancy Treatment
Deeply relaxing personalised treatment beginning with a full body massage, to ease your specific pregnancy related aches and pains. The pregnancy massage oil used during this treatment includes grapefruit, mandarin and neroli oil. This helps ease the effect of water retention, muscle fatigue, boost circulation and soothe stretched and dehydrated skin. The treatment is then finished off with reflexology working on specific reflex points on the feet. This part is also tailored for your individual needs and stage of pregnancy.
90 minutes £70
Luxurious Pregnancy Treatment
Enjoy a back, neck and shoulder massage to help ease your pregnancy related aches and pains enjoying the aroma of grapefruit, mandarin and neroli oil. Then moving onto the feet with a gentle foot scrub and foot massage to leave tired feet feeling soft and refreshed. Finishing off with a soothing luxury mini facial with Eve Taylor products specifically suited for use during pregnancy.
75 minutes £65
Treatment Packages for the Summer
These summer treatment packages are available during June, July and August
☀️ Summer Serenity ☀️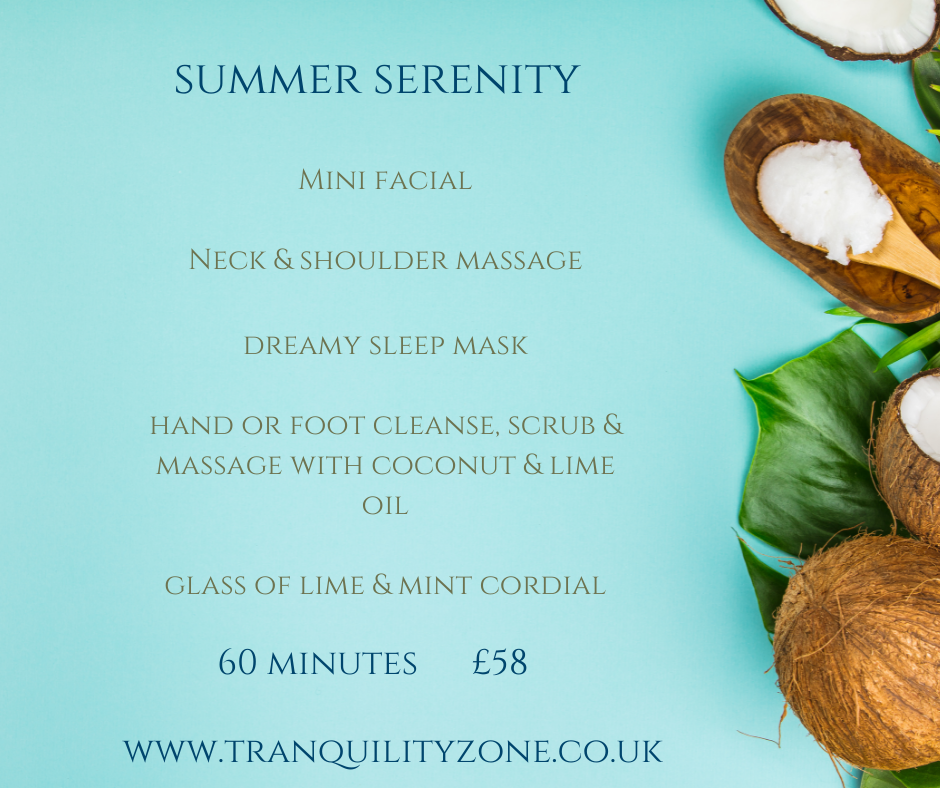 This wonderful treatment begins with a luxurious mini facial to refresh and revive your skin for the summer months. You will also receive a neck and shoulder massage with coconut and lime oil to soothe away all tension. A heated dreamy eye mask is then put on to help calm the mind and help tired eyes. You then choose either a hand or foot treatment and this includes a cleanse, scrub and massage with coconut and lime oil to leave you with super soft skin. At end of treatment, you will receive a refreshing mint and lime drink.
60 minutes £58
🌴 Tropical Treat 🌴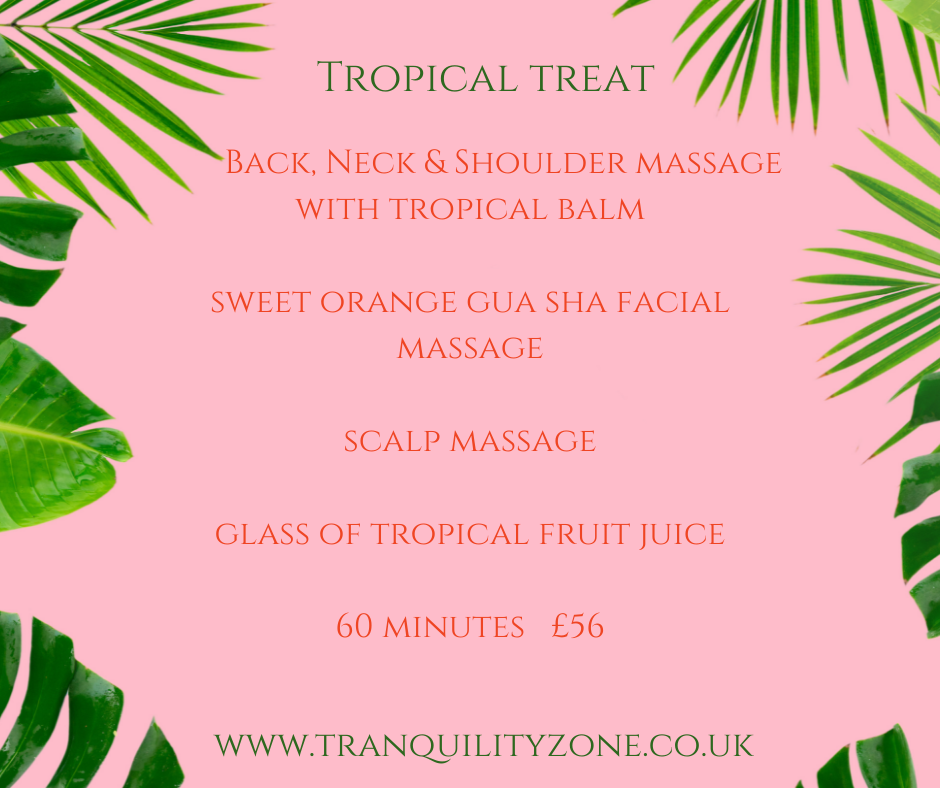 Here I am offering you a deeply relaxing and refreshing one hour treatment with a tropical twist. You will first receive a deeply relaxing back, neck and shoulder massage with a tropical muscle recovery balm. This will ease away all those aches and pains and relieve you of all that built up tension. Then it's a sweet orange facial massage with the gua sha rose quartz stone. This will include gentle strokes on face to encourage relaxation, lymph drainage, relieve areas of tension, lift & sculp facial muscles and stimulate circulation. We then move onto a scalp massage to take you into higher level of relaxation and dream like state. Afterwards, enjoy a refreshing tropical fruit juice.
60 minutes £56
🌈 Holistic Haven 🌈
If you love the healing therapies, then this is the one for you! This session will be truly centred on what you need at the time you visit, so will vary from person to person. It will include a chakra balancing to help restore balance and promote a sense of wellbeing along with angel cards for guidance.You will also have the chance to experience Reiki and/or Reflexology, where I will bring crystals in during this part of the session to give you a chance to relax and recharge.Book in and treat yourself so much needed 'me' time, you won't regret it!
90 minutes £65
To read reviews for all my complementary therapy treatments please click here.
Making an appointment
To book a treatment package, at a time to suit you, in my relaxing treatment room in Monifieth, Dundee, please contact Jenny:
Phone: 07854408179
Email: jenny@tranquilityzone.co.uk
Book Now: Use my online booking system to make your appointment